The COVID-19 pandemic is having an impact on new private jet sales. JETNET iQ shared their latest forecast during VBACE in December 2020. They estimate that 511 new jets will be sold in 2020 compared to 711 in 2019.
The chart below shows the last few years sales numbers, together with the 2020 new jet sales forecast from JETNET, including a breakdown by OEM.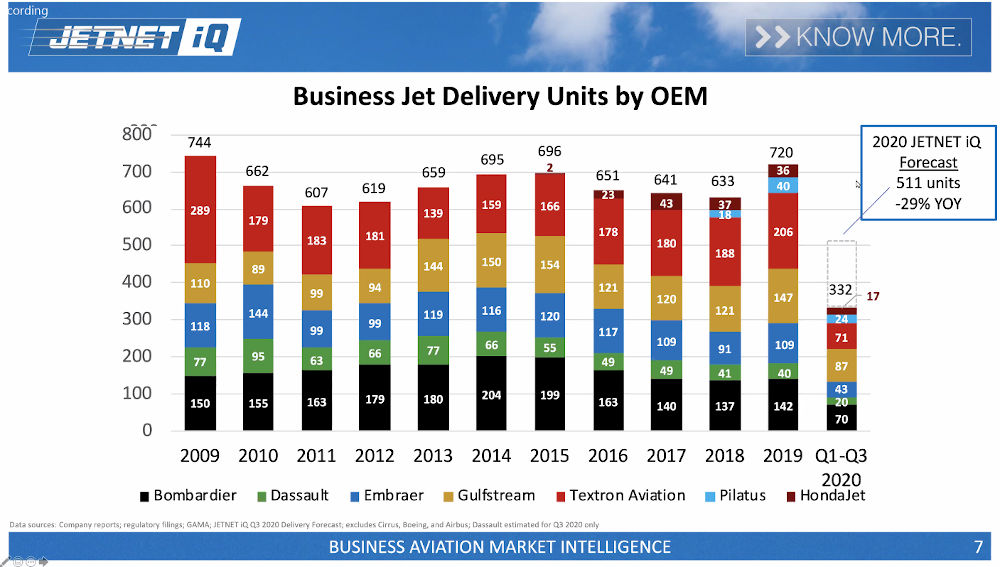 Rollie Vincent, the creator of JETNET iQ, says he expects a 29% year over year drop in new aircraft sales. But he adds that "we're seeing pretty decent levels of activity, especially as we move to Q4."
Not many customers have actually cancelled their orders notes Rollie Vincent. Instead, they may have moved the order and asked the OEM to deliver the aircraft next year, with people still wanting to take advantage of the current accelerated depreciation.
Major OEMs had layoffs earlier in the year, but with positive news on the vaccine front there is some optimism in the market. JETNET iQ notes a net positive market sentiment amongst aircraft owners and operators since the vaccines were announced.
In the pre-owned jet market about 9.4% of world business jets are for sale, or about 2,100 aircraft, according to JETNET. This compares to over 18% of the world fleet for sale at the height of the 2008-09 financial crisis, so we a long way from the nervous situation of ten years ago.